Civil Explosives
Small and Large Dia Emulsions, All type of Detonators, Detonating Cords, Safety Fuses, etc...,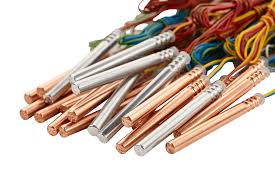 Small Dia Emulsion Explosives
Type
Small Diameter Non Permitted Emulsion Explosives
Product Name
Small Diameter 25mm, 32mm,40mm
Properties
Nominal Density(g/cc)
1.15 ± 0.08
Velocity of Detonation (m/s) Unconfined
4000 ±400
Cartridge Size
Dia x length (mm)
25 x 185
25 x 210
32 x 235
40 x 300
Weight
110g
125g
200g
300g
Applications
Blasting in Quarries, Metalliferrous mines, Tunneling, Excavation, Well Sinking etc.,
Large Dia Emulsion Explosives
Type
Large Diameter Cap Sensitive and Non Cap Sensitive
Product Name
Large Diameter 83mm,125m,200mm
Properties
Nominal Density(g/cc)
1.20 ±0.10
Velocity of Detonation(m/s) Unconfined
4500 ± 400
Cartridge Size
Dia x length (mm)
83x450
125x450
200x360
Weight
2.78kg
6.25kg
12.5kg
Applications
As cord sensitive booster charge in open cast mines and quarries and also as column/base charge in non cap sensitive application
Seismic Explosives (CPT)
Type
Prime CPT
Product Name
Primex
Properties
Relative Weight Strength (% ANFO)
120 - 125
Normal Density g/cc
1.20 to 0.05
Velocity of detonation m/sec
4500 ± 300
Relative Bulk Strength (% ANFO)
170 - 175
Cartridge
Diameter (mm)
63mm & 76
Size
Weight
0.50KG, 1.00KG, 2.00KG, 2.50KG
Applications
These explosives have high velocity of detonation, high energy and high density. These explosives can withstand high hydrostatic pressure in underwater blasting. These are packed in couplable tubes
Electric Detonators
Type
Copper Electric Detonators, Aluminium Electric detonators
Product Name
Special Electric Detonators (ED), Short Delay Detonators(SDD), Long Delay Detonators(LDD)
Delays
LDD -Long Delay Detonators of 0 to 10 of 300ms nominal interval etc.,
SDD Short Delay Detonators of 0 to 10 of 25 ms nominal Interval
Features
Lead wire
1.8m, can be made to desired length
2.5m
3.0m
5.0m
Resistance
2.9 - 5.0 ohms
3.6 - 6.4 ohms
4.2 -7.3 ohms
6.3 - 11.1 ohms
Packing Per Case
1500,1000 (For Delays)
Applications
Instantaneous Electric shell for blasting applications,Steel and Copper Shells for underground coalmines
Non Electric Detonators (NONEL)
Type
Non Electric Initiating System
Product Name
Non Trunk Line Delay (TLD), Down The Hole (DTH) and Twin Det(TD)
Delays
175, 200, 250, 300, 350, 400, 450ms
In Hole: 175, 200, 250, 400, 450m. Surface 17, 25, 42, 65, 100ms.
Trunkline delay: 17, 25, 42, 65, 100ms
3-30 tube
5-25m tube
3-12m tube
2-7m tube
Packing Per Case
No Varies with tube length, 100 for Non-Electric delays for cord trunkline. Non-Electric down-the-hole millisecond delay detonators for open cast times and quarrying, dual detonator for in-hole and surface delay, Non-Electric long period delay detonator for tunneling, Non-Electric detonators delays for cord trunkline.
Detonating Fuses
Type
Detonating Fuses
Product Name
PETN Core load 5 gms, 7.5 gms, 10 gms, 12 gms, 20 gms
Features
Velocity of Detonation varies with core load.
Packing Per Case
2 reels each of 500 m or 4 reels 250 m each
Priming and surface connection in all kinds of blasting
Applications
except underground coal mines. It can also be used as surface
connections with Non electric Initiating cords
Boosters
| | |
| --- | --- |
| Type | Cast Booster |
| Product Name | Primex |
| Delays | NA |
| Features | 100g,150g,250g,400g and 500g sizes |
| Packing Per Case | 22.5kg |
| Applications | Primex fomon cap sensitive explosives |